A big thanks to the Powell team and everyone that came out to the autograph signing/Wasena Demo on June 1st.  Needless to say, we were absolutely blown away by the level of skating that went down at Wasena.  Ben Hatchell absolutely destroyed not only the 8 foot section of the half, but the vert wall drop in to kickflipping the gigantic wedge ramp gap that most deemed impossible.  Also killing the park was Jordan Hoffart.  Having just flown in from competeing in the San Fran Wallenberg 4 set compitition and winning $1000, Jordan still had enough energy to blow our minds.  After the demo, the Powell guys still werent done skating, so we showed them around downtown Roanoke and witnessed them skate several spots.  Both Jordan and Boo Johnson hit up the The Lions club handrail & Boo bigspin boardslid the Civic Center 10 stair rail.  The team told us that they loved the Wasena park & that Roanoke was one of the best cities they have ever skated.  Hopefully footage will be coming up in future mags or videos.  Also, check out the Powell wesite for a blog post on their stop at the Greenhouse  http://powellskateboards.com/plog/page/3/ 
Show some thanks to the powell team by leaving some comments on the blog page!
Josh Hawkins was killing it with style…..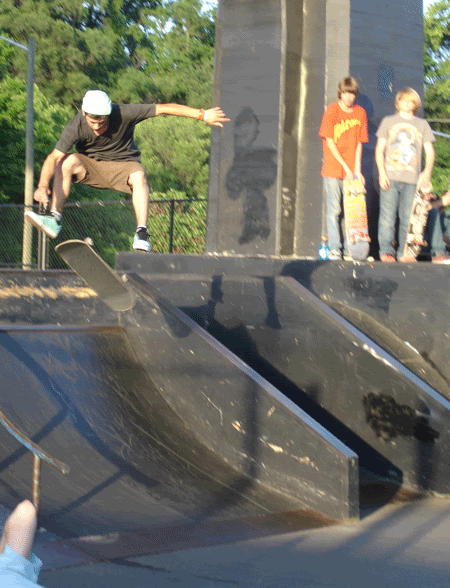 Be on the lookout for better pictures of the demo and also bonus footage of the late night powell session!
Also show some thanks to the powell team  and leave some commets on the blog page